Grammy Award Nominee, Peter Phippen is an innovative performer of flutes of the world. Researching the performance technique and history of his vast collection of antique and contemporary anthropological aerophones ultimately led him to bring this knowledge to concert stages and educational facilities.

Since 1993 Peter has performed concerts, workshops, artist residencies and assembly programs across the United States that are both educational and entertaining - - an enchanting mix of the very old and very new in music.
Peter has shared the stage with R. Carlos Nakai, Coyote Oldman, and Xavier Quijas Yxayotl to name a few. Peter's recordings have been aired on radio and television worldwide.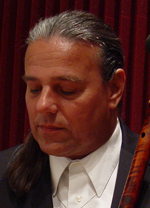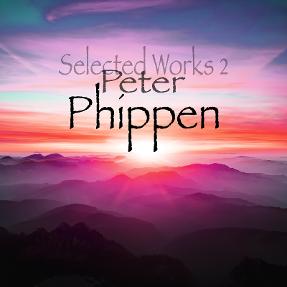 Selected Works 2

by Peter Phippen , Tiit Raid, Ivar Lunde, Jr.,
Enrique Rueda, David Roll, Rahbi Crawford, Arja Kastinen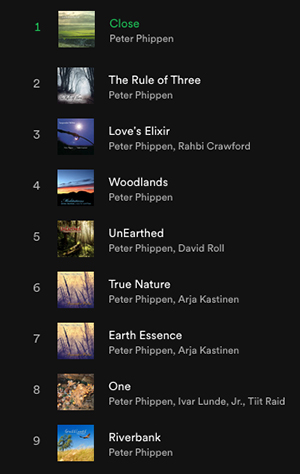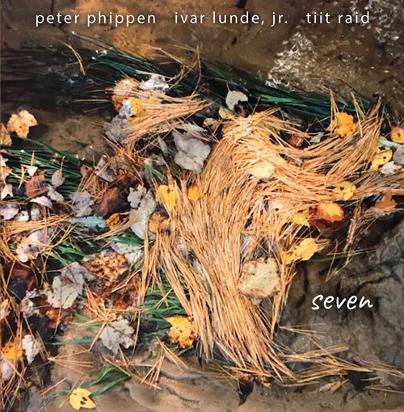 Seven
A unique and fascinating collaboration between
Peter Phippen, Ivar Lunde, Jr. and Tiit Raid,
"Seven" is a fusion of World Music,
Classical, Jazz, and New Age.
Seven

Album review by Dyan Garris, New Age CD.com

The album "Seven" is a unique musical collaboration between Peter Phippen, Ivar Lunde, Jr., and Tiit Raid. If you're attuned to having a deeply meditative, reflective, trance inducing, Zen musical experience, the album "Seven" is definitely one for you. "Seven" is forty-five minutes of total "Zen-Zen" in seven tracks. It's free-form, peaceful, and ambient, making very good use of some interesting and different instruments than one normally hears. It's minimalistic, yet complex at the same time. And it's guaranteed to put you into a whole different space than the one you're in.
A Grammy® nominated flute artist, Peter - as of this writing - has recorded fifteen albums, been in seven compilations, and has appeared as a guest artist on twelve albums. On the album "Seven," he plays the desert flute, shakuhachi, bamboo flute, bamboo fife, and quenacho. Ivar Lunde, Jr. appears here on piano, guzheng, and oboe da caccia. Tiit Raid contributes his artistry to the mix on berimbau, kannel, gongs, drum, thunder tube, chimes, and voice.
Part of what makes a really great artist a master in any genre is the ability to step out of their preconceived box and allow true artistry to flow. "Seven" is a bit out of the box, showcases engaging artistry between these three collaborators, and is delivered with grace, beauty, and improvisational
panache. "Seven" is creative and captivating, ambient, and deeply meditative.
Here we have seven tracks, each titled "One" through "Seven." The album opens, of course, with, "One," which is just over seven minutes of deep relaxation, drawing us slowly and profoundly into the mood and back into connection with our soul. This track features desert flute, gongs, and guzheng, also known as the "Chinese zither," which is an ancient, sixteen-string Chinese instrument.
"Two" features piano, shakuhachi, thunder tube, and chimes. This is a fascinating song with unusual sounds, leading one even deeper into the Zen experience. The oboe de caccia and bamboo flute together on "Three," create a reflective, haunting kind of tune. It's likeable, and a personal favorite. The Native American vibe on "Five" is brings us back into
deeply meditative state after the more vibrant mood of "Four." "Six" is my ultimate favorite on the album. I found this deeply peaceful with the plaintive flute melody mixing well with the guzheng and soft gong sounds.
"Seven" is another composition that is soul-soothing and contemplative. Gentle and ultra-relaxing it's the perfect ending to this fascinating album.
Introducing the Peter Phippen 6 CD Limited Edition Set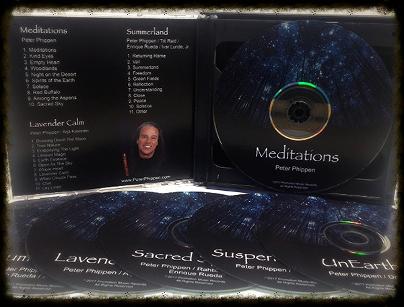 Peter Phippen
6 CD Limited Edition Set contains the following albums: Meditations, Summerland, Lavender Calm, Sacred Spaces, Suspended WIthin, and UnEarthed.
Artists include Peter Phippen, Ivar Lunde, Arja Kastinen, Tiit Raid, Enrique Rueda, Rahbi Crawford, Dave Roll, Sylwia Bialas and Jason N Maria Introwitz. The recordings span over a 12- year period.

Only $49.95
Solace
by Peter Phippen
Solace (Tao of Nature's Flutes) is Peter Phippen's most recent album
consisting of solo work from the past two decades. Solace consists of the finest of Peter's improvisational playing, performing on antique and contemporary flutes from around the world, including the haunting Native American flute. The clear tones Peter gently coaxes from his instruments are not only mesmerizing, they are transportive. Listening to Solace, you'll find yourself enjoying a meditative and reflective state of mind.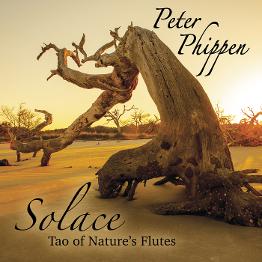 Suspended WIthin
by Peter Phippen and Rahbi Crawford
Phippen and Crawford conjure free flowing, hypnotic and healing improvisations that are both earthy and impressionistic. Listeners are invited to drift away upon the currents of these beautiful, haunting and deeply heartfelt atmospheres.
Click here to listen and purchase
Suspended Within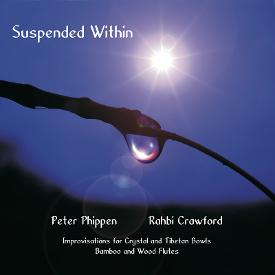 by Steve Sheppard
I needed this album today, the world is a crazy place at the moment and I craved a sanctuary of calm to find some much needed balance. The good news is that sanctuary has been found via this superb release from Phippen and Crawford called Suspended Within.

We have seven steps to serenity and healing within this album and the first step is the really ambient and spacious title track Suspended Within. Thirteen minutes of floating awareness, a long form piece that allows the listener to just be, Phippen's flute here is delightful and creates an inner energy of reflection and peace, while Crawford's bowls are so delicately played, one can feel the body and mind relaxing on this very first opening track, we are indeed on a journey of self-discovery and balance.
Love's Elixir follows the title track, this is such a charming piece that starts so lightly, but then with a slight energy shift, the composition almost empowers itself. Again the chimes and Phippen's flute manifest such a wonderful moment for us all to enjoy, I can only assume that both artists must have really centered and focused themselves to create this level of improvisational mastery.
The longest track off the album is called Heart Cave, at the very opening segment of this arrangement, one could almost feel a gateway open up, I have found the whole album deeply calming, but through the tones of this quite soothing composition, we can really feel like we have entered a realm of total truth though music and an inner dimension where time does not exist, only the beautiful and creative musings of Phippen and Crawford. Once more we have total proof, that both of these musicians have a symbiosis beyond anything that we have witnessed musically so far.
Metamorphosis is indeed a track where one can feel change occurring, the resonance of Crawford's bowls are quite incredible to listen to. I had a decent pair of headphones on whilst reviewing this album and at this point the sheer energy of her performance was quite breath-taking. Peter Phippen has such a tender way with the flute, it is no wonder he can bring forth such a blissful and harmonic style into the mix. I have listened to this piece several times, and have found that each time I have done so, it has further illustrated the changing motif in the composition, it has depth, a lightness of spirit and a charming energy about its constant evolving construction.
Innocence is our next offering, and after the changing theme of the previous arrangement, this one almost has a light childlike quality about its refrains. The resonance of healing motif here is both loving and tender; a real essence of healing can be felt through what is a really comforting and nurturing musical offering.
Echoes Through Time I found the most fascinating of all, perhaps the title drew for me various pictorial scenarios? Yes, I have done a lot of spiritual work in my time and for me personally I felt that this one, was a track that could be used in a journey, a calling could be felt here. The style by Phippen was just stunning and reminded me of the work of fellow English flautist Nigel Shaw in parts. The clever use of echo here worked so well and at times I almost became totally lost in this so very relaxing realm of musical recuperation.
We now finish with another long form arrangement called Yearning. This is probably the most important track off the album, listeners, and meditators you will have travelled on a long deep and soothing journey with both Phippen and Crawford. Both musicians now have to leave you refreshed, at peace and back in your everyday life. The tones used here do just that and allow the listener to slowly gravitate back to their own lives. The sound techniques in this composition, allow the listener to ground themselves in a perfectly peaceful ending composition.
Suspended Within, never has a title been more apt, I have reviewed many healing based albums, but this has to be one of the best, my main reason for this is that the musicians extensively use long form to manifest some very wide open spaces for you, as a listener to explore, they create change and slowly promote healing through the music, but this is done in such a caring loving way, one cannot help to be both impressed and very deeply relaxed at the end of the journey.
Selected Works
by Peter Phippen and friends

Selected Works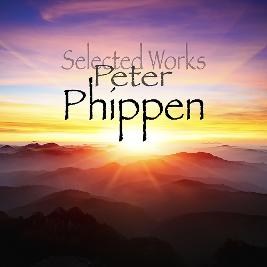 Don't like to order online?

Order by mail by sending a check or money order to:
W12849 Lange Rd. Fairchild, WI 54741
Please indicate what album the payment is for.
Call for quotes on bulk orders for retail sales.

1-866-651-6472
(c) 2020 • All Rights Reserved
Promotion Music Records